About
CrossFit Burlington
Our team of fitness and nutrition professionals are invested in your health. We make every decision with our members' well-being in mind. Achieve your goals with us!
01
Molly Purvis
Owner
Molly is an inspiring coach and an impressive athlete. She started CrossFit in 2014 and fell in love with the community immediately. Molly is a lifelong athlete and has a wealth of experience when it comes to training and coaching; from multiple State and National championships in Swimming, Diving and Track and Field to being a Division 1 athlete for the University of Georgia where she was part of the National Championship team. Molly is passionate about CrossFit and all things related. Fitness and community are her recipe for happiness and she loves spreading that happiness with her CFB community, young and old alike. If she is not training in the gym you can find her training for triathlons or spending time with her daughter Morgan who is by her side at the gym. "I want to keep learning, so I can pass on my knowledge and experiences to all of you." "The harder we work, the better we feel." Molly is committed to creative an inclusive environment where fitness is accessible to everyone regardless of age or ability.
Molly received her CrossFit Level 1 Certification in September 2016 her CrossFit Level 2 Certification in November 2018 as well as her CrossFit Kids Certification in April 2017. Molly received her CrossFit weightlifting certification in 2022 and completed he Adaptive and Inclusive trainer Certification in July of 2023. Molly is a Precision Nutrition L1 certified coach.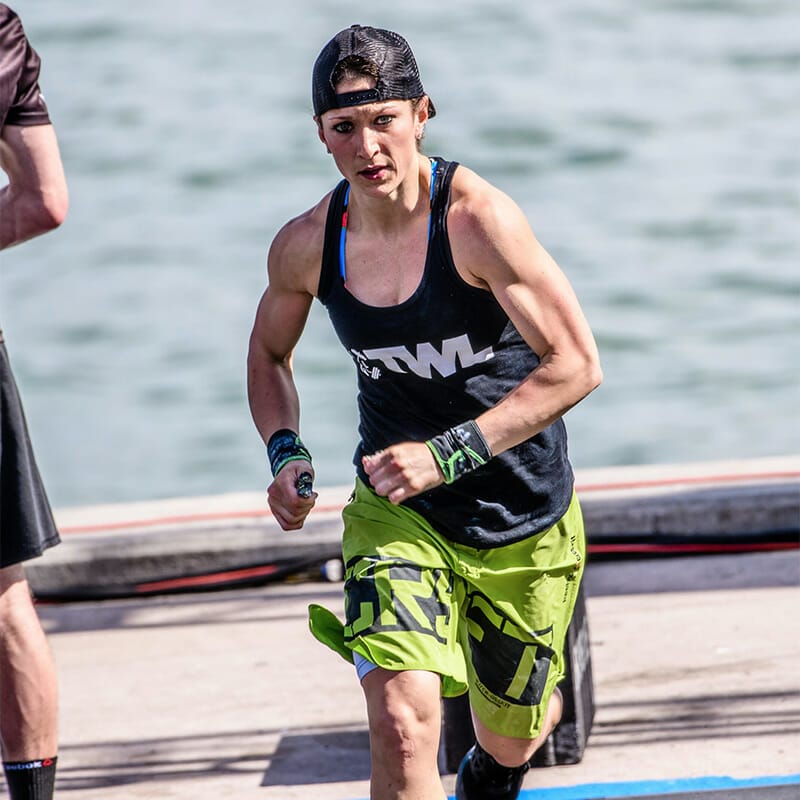 02
Laine
Coach
Laine was introduced to CrossFit in March of 2012 and was instantly hooked. She loves everything from the community and camaraderie to the intensity and accountability. Since 2012, she has participated in countless local competitions as well as prestigious qualifying competitions including, The Granite Games (2015), the North East Fitness Invitational (2016) and Wodapalooza (2017, 2018, 2019). Growing up, she loved anything sports related. She has been an avid soccer and rugby player, ski racer, and was also a ski/snowboard instructor. In her spare time you can find her in the gym with a heavy barbell, or out of the gym hiking, boarding, biking, or playing with her two rescue dogs. She pursued her Level 1 in 2018 and is excited to be a part of the CrossFit Burlington community, as an athlete and a coach.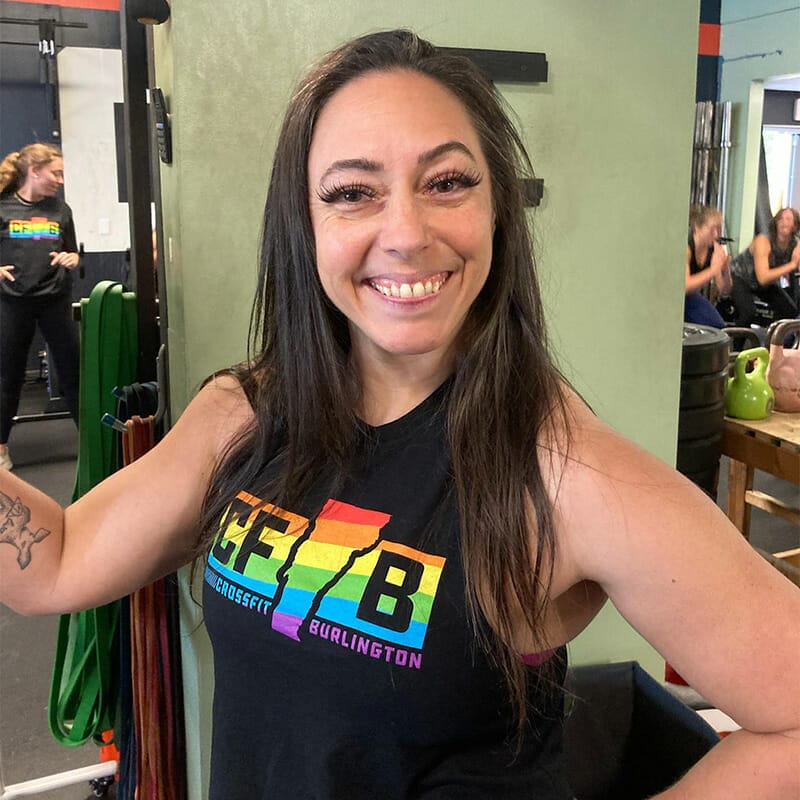 03
Laura
Coach
Laura is a role model for discipline, hard work and camaraderie. As a committed athlete she can be found in the gym 6 days a week, working her weaknesses and encouraging others. What she lacks in running speed she makes up for in barbell/gymnastic technique and true-grit. She is a role-model to the young men and women members of our gym as we all try to become the best versions of ourselves. Laura has her CrossFit L1 and L2 certification and also has certifications in gymnastics and weightlifting.
04
Jenny
Coach
Jenny decided to give CrossFit a try in 2012 with her sister, Jodi. They have been enthusiastic and dedicated members ever since. Jenny is a physical therapist with 20+ years of experience and is a board-certified geriatric clinical specialist. She is passionate about helping people stay young, active and engaged as they age! An avid skier and generally outdoorsy person, Jenny enjoys being active and CrossFit has given her the strength and endurance to continue her recreational and professional pursuits as she gets older. Jenny has her L1 and scaling certifications in CrossFit. In her spare time Jenny loves to knit, read, tend her backyard beehive, and volunteer at Bolton Valley as a ski patroller. She and her husband, Dave, have 2 dogs and 2 grown children. Jenny is the head coach for The Legends class. Jenny received her Adaptive and Inclusive trainer certification in July of 2022.
05
Sophie
Coach
Sophie signed up for a free week at a CrossFit gym by chance in 2013. What she found there was: community, support, an opportunity to feel strong, and much – needed permission to stop trying to force her body to be a specific type of athlete. A lifelong athlete, it wasn't until CrossFit that she fell in love with competing; now she jumps on any opportunity to sign up for a comp! Sophie started coaching in 2015 and has worked with athletes of all abilities from age 7 to 70 at multiple local gyms. When she's not at a gym she teaches middle school special ed, bakes delicious treats and plays outside. Sophie has her CrossFit L1 certification.
06
Anise
Coach
Anise started CrossFit in 2017 at the suggestion of her partner, Sarah. Despite a long-standing loathing of group fitness classes, the camaraderie and community of CrossFit drew her in. Anise completed her CrossFit L-1 certification in 2019 and started volunteering as a coach of The Phoenix program at CrossFit Burlington. As a kid, Anise played soccer, basketball and softball but it wasn't until she picked up running in her early thirties that she began to get serious about her health and fitness. While not the fastest, she has the mental stamina and physical endurance that allowed her to two marathons, including the NYC marathon in 2013. Anise enjoys working with athletes of all ages and abilities. In her free time, she enjoys outdoor activities such as paddleboarding and hanging with partner and their two dogs. We are pumped to add her to the CFB coaching staff. 2019 CrossFit L-1.
07
Prem
Coach
Prem started CrossFit in 2014 after getting bored of the same old globo gym routine and watching countless videos on YouTube about the CrossFit Games. He quickly began seeing gains in his fitness goals and improved his health and quality of life. On top of the constantly varied programming, Prem also found the CrossFit community was exceedingly unique and welcoming. You could be competing against someone for a whole class, but afterward, you can get tacos as if you weren't just trying to beat them in a workout. His favorite workouts feature legless rope climbs, heavy thrusters, and anything that involves a barbell. He works as a Software Development Manager for an NYC-based company when he is not hanging out at the gym and socializing with the members. Prem officially moved to Vermont in 2020 from the Big Apple with his family. Prem has been athletic most of his life. Growing up he was a wrestler, sprinter, and college cricket player. Prem loves learning about how the human body works and how individuals can achieve incredible feats through hard work. Some of Prem's favorite hobbies are socializing, drinking beer, and watching cricket. Prem is looking forward to seeing you in the gym and getting to know you over a few beers. Prem's goal is to show other people that fitness doesn't have to be boring. Fun fact about Prem: He was a competitive online gamer in his college days.
08
Chloe
Coach
Chloe started CrossFit in 2013 with the intention of "learning the movements" so that she could workout on her own. After her first month she was hooked and never looked back. By 2015 she was coaching classes and immersing herself in the CrossFit world. Chloe shares that her favorite thing about coaching is seeing people do things they've never done before, especially if they've never viewed themselves as athletic. She loves being part of that process and getting to watch people gain confidence both inside and out of the gym. Chloe is also a certified nutrition coach. She shares that in general, "diet and exercise culture has left a really bad taste in most people's mouths. We're taught from a young age to eat a tiny bit and workout a lot, and that we're bad if we mess up." She says that in the beginning of her CrossFit journey, she too fell into this hole. "I saw myself and others getting injured constantly, struggling with their diets, and just generally feeling like they were being run into the ground." Outside of CrossFit, you can find Chloe hiking, snowboarding, and being outside with her dogs.
09
Jon
Coach
Jon is an inspiring athlete and top-notch human being. Jon has an energy and spirit that makes you instantly intrigued and excited about his classes. Jon has competed in numerous local comps, and also qualified and competed on our intermediate team in Miami, Florida in 2019. Jon is by no means new to coaching and has worked at other gyms and with a variety of athletes over the years. He has held a CF-L1 coaching certificate as well as his CrossFit Weightlifting Certificate for years. Jon will be coaching our weekly Strength class.
010
Alek
Coach
Alek started CrossFit in 2018 in New Jersey and hasn't stopped since. During the day, Alek loves cooking, reading, watching an ungodly amount of movies (or is it godly?), going on a walk after dinner, negronis, soccer, the Cure, Bob Dylan, and the Velvet Undergound. His favorite movement is a back squat and his least is any kind of weighted step up (dear lord). Alek is new to coaching but can't wait to teach all he has learned to others. Alek received his L-1 certification in 2022
011
Ben
 started doing CrossFit in early 2011 in Austin, TX as an athletic outlet but quickly took to coaching full-time thereafter.
He then spent 7 years abroad coaching at CrossFit gyms in Kuwait, Kazakhstan, Indonesia, Cambodia, the UK, Vietnam, and Costa Rica.  His biggest takeaway is that regardless of culture or language, the communal aspect of a box is most important. Crafting a "third space" environment that is safe and supportive is 
Ben
's top priority in classes. That and making jokes 🙂
A perpetual student of physical culture, 
Ben
 is a CF-L3 and also holds a myriad of specialty certifications. More recent areas of study include loaded flexibility training, old-time lifts, and rucking. Outside the gym look for him at the comedy club, movie theatre, or on the trails hiking and mountain biking.
012
Kristen DeAngelis
Health Coach
Kristen DeAngelis, RD, LD, RYT, is a passionate Registered Dietitian and Health Coach working 1-1 with clients to achieve their health goals from a functional and in depth integrative perspective. She serves as Sr. Director of Health Coaching at Nutrition Dynamic, a virtual functional and integrative health coaching practice, where she educates, mentors, and develops protocols for her team of health coaches, and is a contributing educator to the Functional nutrition certification program (MMU). She is also the lead Dietitian contributor to Wellness Mastery a health masterclass platform and has her private practice, Kristen DeAngelis Wellness providing in-service workshops, trainings, and seminars around the country. Kristen works with individuals 1-1 to address their root causes to achieve solutions for hormone/thyroid imbalances, weight loss resistance, adrenal dysfunction, period problems, gut issues, food sensitivities and more to get her clients to reach their fullest potential. Her drive to learn and educate others on a functional model, stemmed from her own experience being failed and dismissed by traditional practices of years of gut issues, amenorrhea, and anxiety. Kristen lives in Burlington, VT with her fiancé Igor and their adventurous dog Kramer. She loves skiing, hiking, enjoys all outdoor activities, meeting new people and traveling around the world alongside her passion of serving others in the health and wellness space.
Take the first step.
We can't wait to meet you
Chat with a coach at CrossFit Burlington to learn more about what program will fit your goals.
Fill out the form below to get started
Take the first step towards getting the results that you want
Free Intro